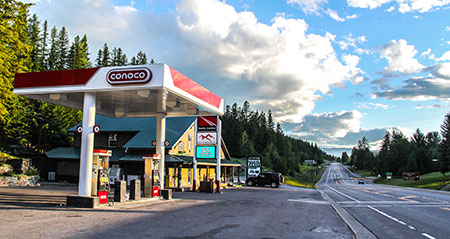 Glacier Highland brings you as close to nature and Glacier Natural Park as possible, while still affording you the comforts of home. Through our hotel rooms in West Glacier, MT, our guests have a direct connection with one of the most beautiful parks in the state, with our convenience store and family-run restaurant just a few feet away. When you book a room at the Glacier Highland, you can expect a lot—rustic lodging, spectacular views and the benefits of staying right at of the West entrance of Glacier Park.
Lodging and Accommodations
Our facilities span a total of 33 western-styled hotel rooms in West Glacier, MT—the majority of which have been recently remodeled for modernity and convenience. We offer motel rooms with single queens, single kings, double queens and even a few family units with three queen beds. It's our goal to make you, your family, your friends or whoever else you're traveling with as comfortable as possible.
When in your hotel rooms, you'll have access to a wide variety of top-grade amenities, including Internet access, satellite television, mini-fridges, and coffee makers. The atmosphere is also designed to help you relax, unwind, recharge and get yourself centered for whatever's next on your trip.
Reserve your motel rooms today
If you're looking to book a vacation to Glacier National Park or you're seeking accommodations that are amenable to your budget and needs, Glacier Highland welcomes you. Get in touch with us today to reserve your room or to ask any questions you may have about our accommodations, things to do, or on-site family-style restaurant. We can be reached at 406-888-5427.
Cancellation Policy
A forty percent deposit is required when the reservation is made. The balance is due upon your arrival for check-in.
If you do wish to cancel this reservation, please contact us at least a week prior to your reservation and you will receive your deposit less a $20 administrative fee. If the cancellation is received less than a week from the date of your reservation, you are responsible for the entirety of your reservation.
All motel rooms are non-smoking and no pets allowed. A $100 fine will be charged if it is found that either of these rules have been violated.
Check-in is 3 pm and Check-out is 11 am.